Get your fresh, high protein meals delivered straight to your door - Simply order by 5pm Thursday!
High Protein Meals
Nourish'd has a menu filled with delicious, healthy, high protein meals delivered to your door. We cater Brisbane to a huge array of dietary requirements and have 60 meals on our menu!
High protein sources in our meals include grass fed meats including beef, lamb and pork. Free range chicken and eggs are present in many of our meal options which is a great source of protein.
Find out why High Protein Meals are so important here.
High Protein Customer Favourites!
See our most popular high protein meals below. The protein, carbohydrate and fat macronutrients listed are based on a large meal size.
view full menu here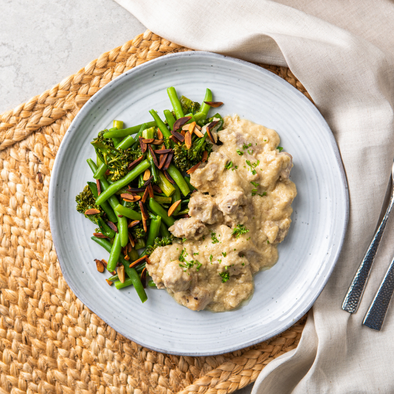 Why Choose Nourish'd High Protein Meals?
At Nourish'd we believe that what's inside matters. We are truely passionate about making delicious and nourishing food easy to access. It doesn't have to be difficult to fuel your body with high protein food that is great for you - get gourmet, pre-prepared healthy meals delivered to your door. The benefits of High Protein meals include:
Increases muscle mass and aids training recovery

Boosts metabolism and increases fat burning

Helps to lower blood pressure and maintain weight

Great for both health and strength
more benefits
Sign Up To Our Mailing List
Make healthy eating easy with Nourish'd ready-made meals, delivered fresh to your door! Pause or cancel anytime. Enter your details to receive info straight to your inbox