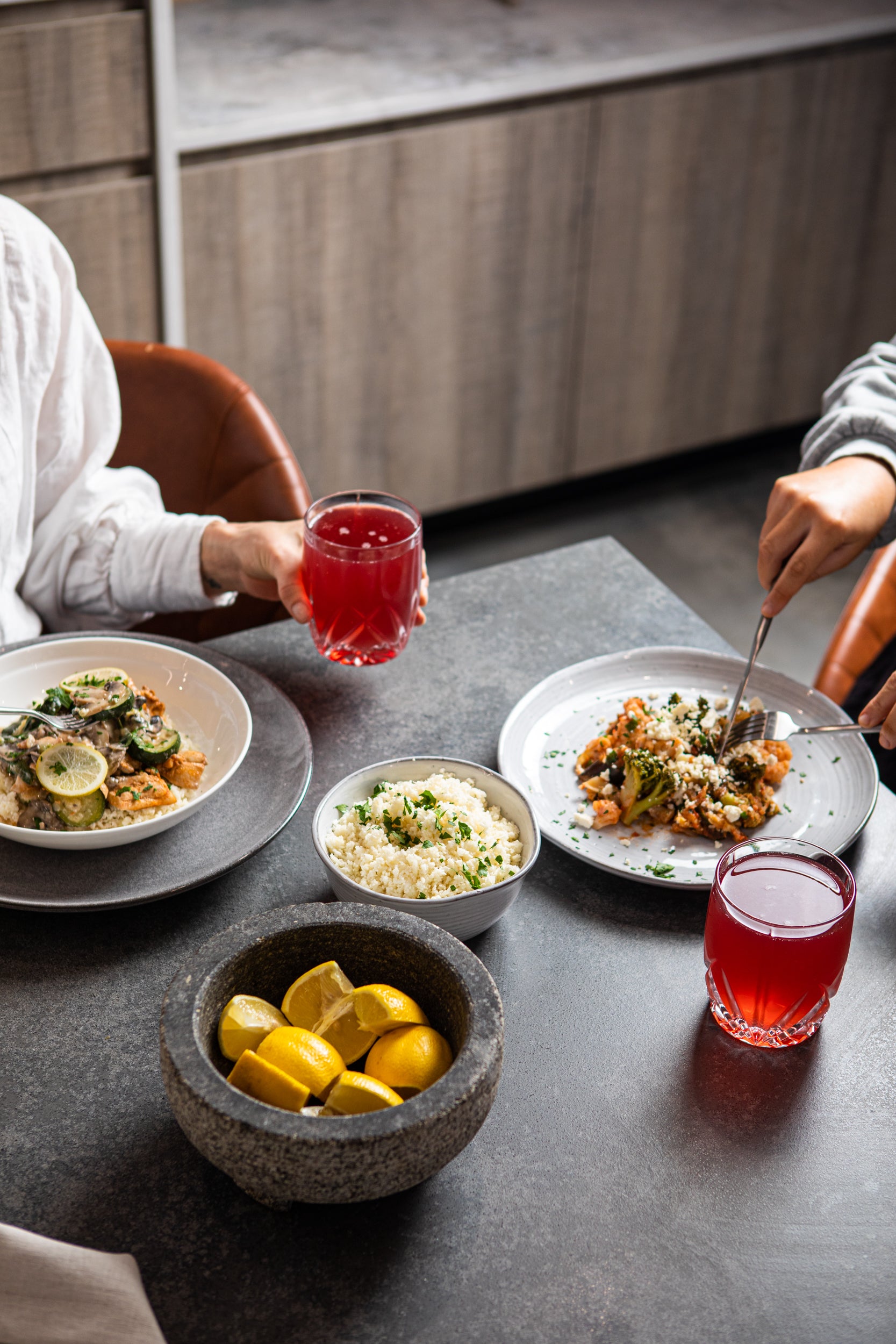 Nourish'd Terms & Conditions
In these Sale Terms & Conditions (Sale Terms), "we" or "us" means Caveman Kitchen Pty Ltd, Trading as Nourish'd Meal Company ABN 42 167 830 793, its successors and assignees. "You" means the person, organisation or entity that purchases products or services from us.
The Sale Terms apply to all sales made by us to consumers through our website available at nourishd.com.au (Site). These Sale Terms form the agreement under which we will supply meals (Meals) to you.
Please read the Sale Terms carefully. Please contact us if you have any questions, before you purchase from us. Our contact details are at the end of these Sales Terms.
Your purchase from us indicates that you have had sufficient opportunity to access the Sale Terms and contact us, that you have read, accepted and will comply with the Sale Terms, and that you are eighteen(18) years or older. You must not order products or services from us if you are under eighteen (18) years of age. If you do not agree to the Sale Terms, do not purchase from us.
Our Privacy Policy sets out how we collect, use and protect your personal information. This is available on our Site.
Registration: We will create an account for you (Account) and provide a confirmation of account registration when you register on our Site. It is your responsibility to keep the details of your Account confidential. You are liable for all activity on your Account, including purchases made using your Account details.Orders:(a) You may order Meals with us as set out on the Site. We may at our discretion accept or reject an order depending on factors including availability of Weekly Meals, availability of delivery zone, and our ability to validate payment for the Meals.(b) Details of your order, including delivery address and pricing, will be available on the Account. It is your responsibility to check your details and keep these details up to date.(c) A binding agreement comes into existence between you and us, once we have given you an order number. No changes to the Sale Terms will be effective unless we both agree to the changes in writing.(d) If you wish to cancel or suspend an order for meal delivery, it must be cancelled or suspended as set out on the Site.Payments:(a) You agree to pay the purchase price specified on the Site at the time that you place your order for Meals, plus any applicable delivery and insurance charges. All amounts are stated in Australian dollars. All purchase prices include Australian GST (where applicable). Delivery and any insurance charges will be separately shown.(b) You agree to pay the fees for the Meals according to the meal payment plans available on our Site (Meal Plans).(c) You must pay for a Meal Plan through the payment gateways available on our Site.(d) You must not pay, or attempt to pay, for an order through any fraudulent or unlawful Means.(e) You acknowledge and agree that:Some of our products are provided on a subscription basis. We deliver meals based on your selected plan, until you cancel according to our cancellation policy as set out in clause 4 below;to maintain your Weekly Meal orders, payment to us will be made automatically on a weekly payment date, via the payment methods available on our Site; iii. the cut-off for subscription adjustments (pauses, cancellations, order restarts, and address changes) is set out on the Site; andif we are unable to take payment from you, we will attempt to contact you viaIf a payment is not able to be successfully processed prior to 5pm Thursday preceding the Monday delivery, then that order will be cancelled.Availability and Cancellation:If the cancellation request is received prior to 5pm on Wednesday, the cancellation will be immediate and you will not receive any further Weekly Meals.If the cancellation is received after 5pm on Wednesday, the order due to be delivered on the following week will still be delivered and you will be charged for that week.Delivery:Discount Codes and Promotions:Consumer Guarantees and Refund PolicyYour order going missing;your order being different to what was ordered on our Site; orIntellectual Propertyall present and future rights to intellectual property including inventions and improvements, trade marks (whether registered or common law trade marks), patents, designs, copyright, any corresponding property rights under the laws ofall rights in respect of an invention, discovery, trade secret, secret process, know-how, concept, idea, information, process, data, formula or work product; and We own all Intellectual Property rights in the products and company branding, as betweenDisclaimersLimitation of Liabilitywe expressly disclaim any implied or express guarantees, warranties, representationswe do not warrant that the Site or your access to the Site will be error free, that any defects will be corrected or that the Site or the server which stores and transmits material to you are free of viruses or any other harmful components;we will not be liable for any loss, damage, costs including legal costs, or expenseAmendment: These Terms may be amended from time to time, without prior notice. Your purchase from us following any such amendments will be deemed to be confirmation that you accept those amendments. We recommend that you check the current Sale Terms, before purchase. Our agents, employees and third parties do not have authority to change the Sale Terms.Indemnity: You indemnify us from and against all claims, suits, demands, actions, liabilities, costs and expenses (including legal costs and expenses on a full indemnity basis) resulting from your breach of the Sale Terms.
General:
(a) Accuracy: While we endeavour to keep the information up to date and correct, we make no
representations, warranties or guarantee, express or implied, about the completeness, accuracy, reliability, suitability or availability of any information, images, products, services, or related graphics contained on the Site for any particular purpose. You hereby acknowledge that such information and materials may contain mistakes, inaccuracies or errors and we expressly exclude any liability for such to the fullest extent permissible by law
(b) Termination: We reserve the right to refuse supply of the products ordered by you, terminate your Account, terminate our contract with you, and remove or edit content on our Site at our sole discretion, without incurring any liability to you.
(c) Force Majeure: We will not be liable for any delay or failure to perform our obligations under the Sale Terms if such delay is due to any circumstance beyond our reasonable control. If we are delayed from performing our obligations due to such a circumstance for a period of at least 2 months, we may terminate our agreement with you by giving you 5 business days' notice in writing.
(d) Notice: Any notice in connection with the Sale Terms will be deemed to have been duly
given when made in writing and delivered or sent by email, facsimile or post to the party to
whom such notice is intended to be given or to such other address, email address or facsimile number as may from time to time be notified in writing to the other party.
(e) Waiver: Any failure by a party to insist upon strict performance by the other of any provision in the Sale Terms will not be taken to be a waiver of any existing or future rights in relation to the provision. No waiver by us of any of the Sale Terms shall be effective unless we expressly state it is a waiver and we communicate to you in writing.
(f) Assignment: You must not assign any rights and obligations under the Sale Terms whether
in whole or in part without our prior written consent.
(g) Severability: If any of the Sale Terms are determined by any competent authority to be invalid, unlawful or unenforceable to any extent, such term, condition or provision will to that extent be severed from the remaining terms, conditions and provisions which will continue to be valid to the fullest extent permitted by law.
(h) Jurisdiction and Applicable Law: Your use of this Site and any dispute arising out of your use of it is subject to the laws of Queensland and the Commonwealth of Australia. These Terms are governed by the laws of Queensland and the Commonwealth of Australia and subject to the exclusive jurisdiction of the courts operating in Queensland. The Site may be accessed throughout Australia and overseas. We make no representation that the Site complies with the laws (including intellectual property laws) of any country outside Australia. If you access the Site from outside Australia, you do so at your own risk and are responsible for complying with the laws in the place where you access the Site.
(i) Entire Agreement: These Terms and any document expressly referred to in them represent
the entire agreement between us and you and supersede any prior agreement, understanding or arrangement between you and us, whether oral or in writing.