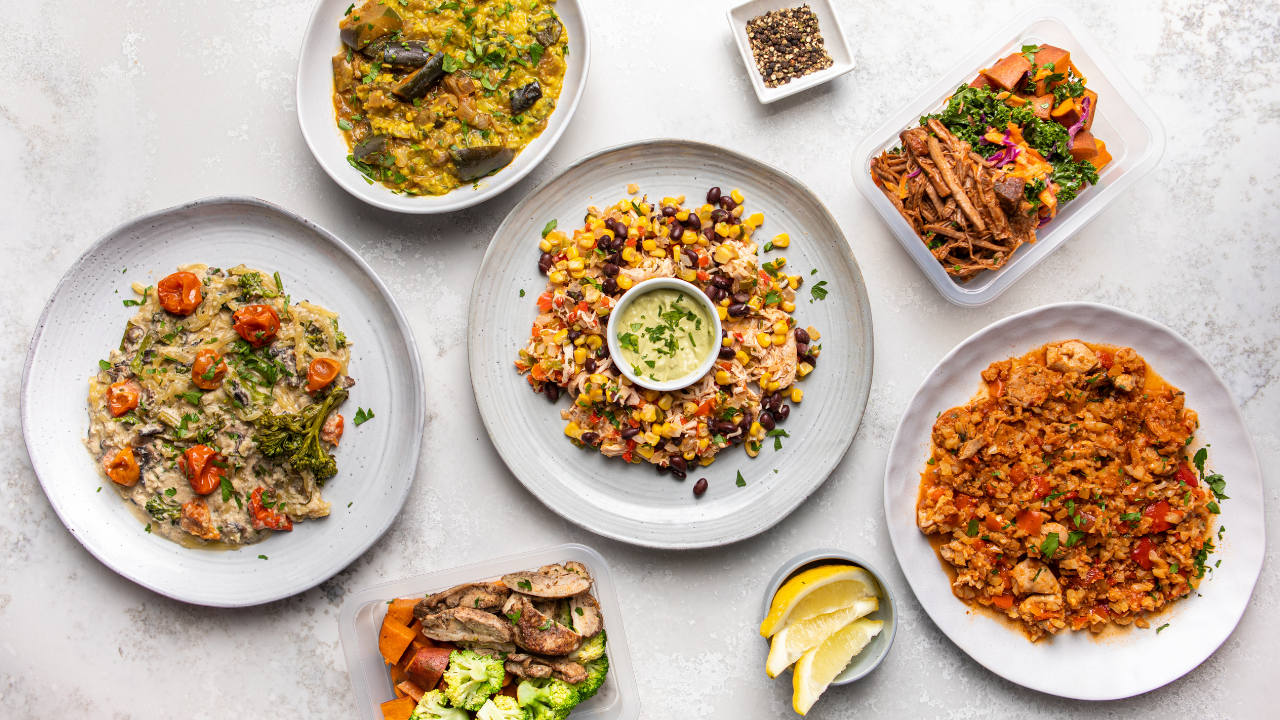 What Sets Nourish'd Apart? Our Dietary Options.
At Nourish'd we want everyone to enjoy our food. It's as simple as that. It doesn't matter if you prefer vegetables over beef, low carb over high carb or paleo over keto. That's why catering to a wide range of dietary options has always been our goal. 
If you are new to Nourish'd you may not be aware of how many dietary requirements we offer. In fact, Nourish'd is the only healthy meal delivery provider in Australia that caters for 9 dietary requirements including gluten free, refined sugar free, preservative free, keto friendly, low carb, nut free, paleo friendly, dairy free and vegetarian. Now that's a lot of choice! Below we highlight our dietaries and how they could help you thrive in your health journey. 
Gluten Free, Refined Sugar Free & Preservative Free
Gluten free, refined sugar free and preservative free food has always been at the forefront of the Nourish'd ethos. All we want to do is ditch the BS (bad stuff)! Many of the foods in the supermarket contain a large amount of refined sugar and preservatives which may cause negative health side effects in the long term. It is common to be unaware of how many preservatives are present in our packaged foods which is why it can be so hard to find gluten free, refined sugar free and preservative free food all made in one - this is where Nourish'd comes in. 
We are also conscious that many individuals are allergic to gluten (coeliac disease) and preservatives, thus this dietary requirement is in demand. Our meals are 100% gluten free and preservative free plus they are made in a controlled kitchen environment with a gluten free safety plan in place. To view the gluten free safety plan click here. Nourish'd is committed to offering real food to real people - we hope you enjoy it!
Dairy Free
Dairy is a common dietary requirement for many – especially when intolerances and allergies are concerned. This is when a dairy free diet should be considered. The benefits of incorporating dairy free meals into your diet may include decreased gut inflammation, a lower chance of mood swings due to the ingestion of hormones in dairy. Bloating, diarrhoea and constipation can also be minimised. Generally, it seems you can live a more comfortable life with dairy free food. There are over 30+ dairy free meals available on the Nourish'd menu so it is simple to incorporate dairy free meals in your week!
Keto Friendly
Keto is a high fat, low carbohydrate diet that can offer many health benefits. A dramatic reduction in carbs can cause the brain to go into ketosis which means your body can become efficient at burning fat for energy. This diet can help increase energy and focus as well as a reduction in blood sugar levels. Many of the Nourish'd team and our customers adopt a keto-friendly diet due to its incredible benefits. For the keto-friendly dietary requirement the Nourish'd menu has 20+ meals available in a range of cuisines. 
Low Carb
Eating low carb foods can be great for managing weight loss and also help maximise heart function. Low carb meals should be consumed with a quality source of protein and fat to ensure you are still getting the energy and nutrients needed for body and brain function. Incorporating low carb meals into your week is easy with Nourish'd. We offer many meals with cauliflower rice and vegetable mash which decrease the carbohydrate content of the whole meal. There are 20+ low carb meals available on our menu so you will never be bored if you choose to eat low carb meals from Nourish'd. 
Nut Free
Minimizing allergens in our meals is essential for the safety of our customers. This is why we offer 40+ nut free options to make sure those with nut allergies can enjoy easy, healthy eating. To see our nut free meals head to our full menu and select the nut free tab from the dietaries drop down menu. 
Paleo Friendly
Paleo as a dietary requirement is becoming ever more popular with people who want to consume high protein, low fat foods. This diet is modelled on the humans of the ​​Palaeolithic period. At this time people ate vegetables, fruit, nuts, insects, roots, and meat. Nourish'd paleo meals pay a tribute to this and is a favourite for our co-founders, Abbey and Dave. The benefits of eating paleo foods may include:
Promoting a healthy blood sugar level and lowering blood pressure;

Improved cholesterol balance;

Decreasing hunger and appetite between meals.
There are 40+ paleo meals available on the Nourish'd menu, so why not try this style of eating?
Vegetarian
If you want to decrease your meat consumption or increase your intake of rich vegetables then our vegetarian meals are for you. Following a vegetarian diet can be great for lowering blood pressure and may help decrease your risk of certain cancers. Our collection of vegetarian meals rotate on a weekly basis meaning you'll never tire of options. A lot of our meals can also be made vegan, some of them include optional sauce pots that contain dairy - meaning removing these will give you a completely vegan meal!
With Nourish'd, you can try a wide variety of dietaries or stick to your preferred way of eating. If you are unsure about which dietary option will work for you please speak to a qualified dietitian or medical professional. View our full menu here and order before Thursday 5pm AEST to receive your box the following week!