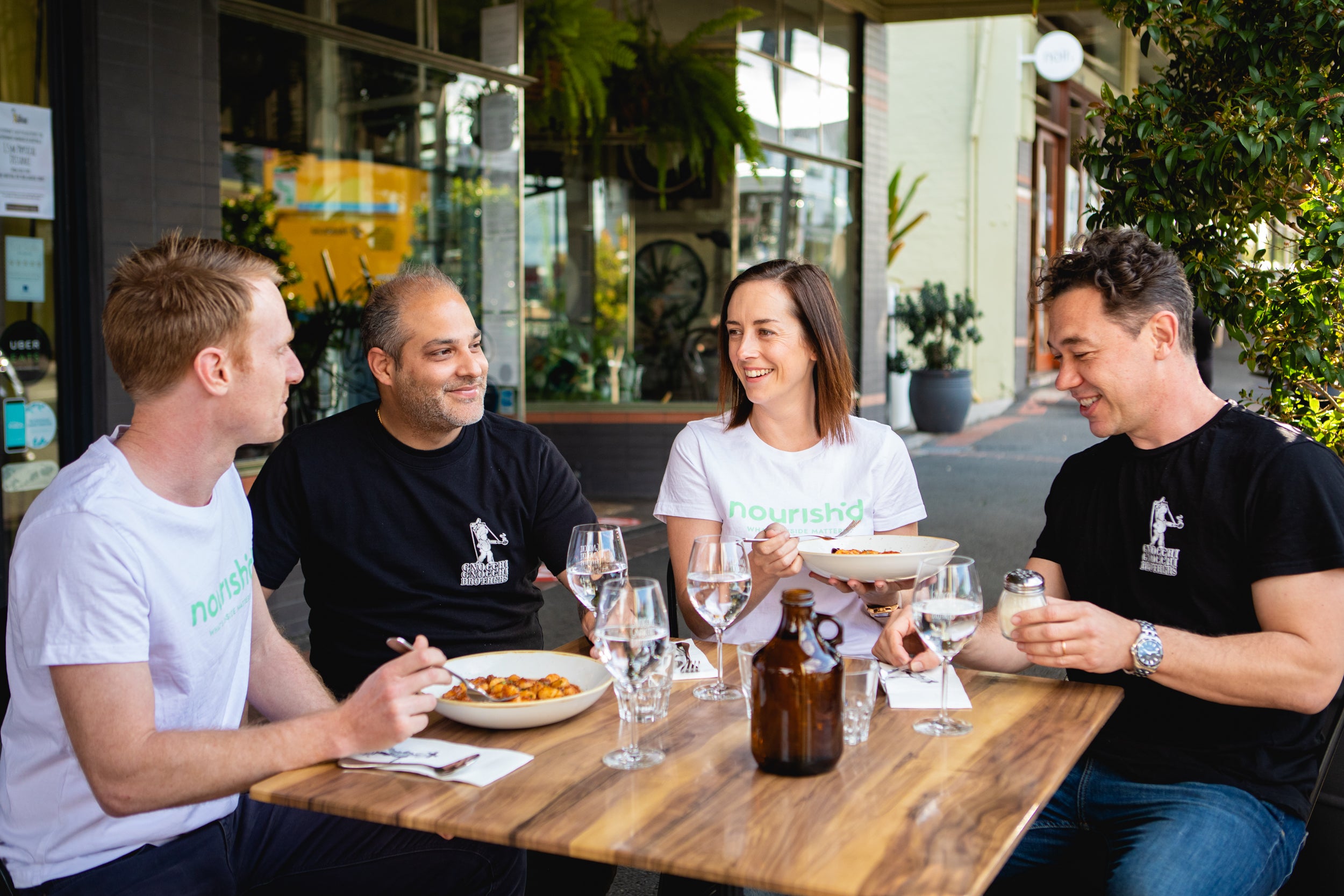 It's Here! Nourish'd x Gnocchi Gnocchi Brothers
The secret is out! Our Gnocchi Gnocchi Brothers collaboration has launched and you can now get your gluten free gnocchi fix every single week. For those who are unfamiliar, Gnocchi Gnocchi Brothers is Australia's first 100% dedicated Italian gnoccheria. The co-founders, Ben and Theo share a true passion for authentic, real Italian cuisine and believe everyone deserves to enjoy delicious, home-style gnocchi.
Our CEO, Abbey approached the Gnocchi Gnocchi Brothers team after trying their gluten free gnocchi for the first time. She fell in love with this quality, gluten free gnocchi and immediately wanted our Nourish'd community to try it. Now with our new Nourish'd menu launching on the 8th of October you'll be able to have delicious GGB Gnocchi delivered straight to your door as one of your favourite Nourish'd meals!
Read below to gain an insight into Abbey and Ben's take on the new menu and what this collaboration will do for Nourish'd and Gnocchi Gnocchi Brothers community.
ABBEY, CEO AND CO-FOUNDER OF NOURISH'D
WHAT DREW YOU TO GNOCCHI GNOCCHI BROTHERS?
I ate it! No in all seriousness I was sitting at the hospital with my daughter waiting for surgery after she broke her arm, had not eaten in 24 hours, and made the best decision to try Uber Eats for the first time. GGB had an actual Gluten Free option for me, and the second I had my first taste I texted my co-founder to tell him we had to do a collab!
GGB is everything Nourish'd is about – real ingredients, made into delicious meals. No added BS, just bloody delicious whole foods.
WHY DID YOU WANT TO WORK WITH GNOCCHI GNOCCHI BROTHERS?
They're local, they're about real food and real experiences, and they live up to the Nourish'd foodie experience. I want people all across the country to be able to experience how great they are!
What do you hope our customers will gain out of this collaboration?
We have traditionally struggled with more Italian style dishes, due to being 100% gluten free. I think this is going to be such an amazing offering for our customers – to have gnocchi hand made by the best in the business delivered to their doors, and not have to worry about gluten – the best!
WHAT IS YOUR FAVOURITE NEW GNOCCHI GNOCCHI BROTHERS DISH ON THE NOURISH'D MENU?
Mushroom Truffle!!!
BEN, CO-FOUNDER OF GNOCCHI GNOCCHI BROTHERS
WHAT DREW YOU TO WORKING WITH NOURISH'D INITIALLY?
The owners of Nourish'd Dave and Abbey introduced themselves to us after enjoying some of our delicious gluten free gnocchi in Brisbane. We were thrilled to meet them and so happy they enjoyed our gnocchi dishes.
WHY DID YOU AGREE TO COLLABORATE WITH A COMPANY LIKE NOURISH'D?
Both Nourish'd and Gnocchi Gnocchi brothers have very aligned core values and food philosophies. We both focus on offering our customers delicious meals produced from high quality produce that don't simply suffice but are wholesome meals that people really enjoy. Our mission is to serve everyone the most delicious, fresh gnocchi dishes ever experienced and Nourish'd will help us achieve that by distributing our gnocchi to more and more households around Australia.
WHAT DO YOU HOPE THE NOURISH'D CUSTOMERS WILL GAIN OUT OF THIS COLLABORATION?
We would like to bring joy to Nourish'd customers through our gnocchi. We hope our gnocchi dishes become a selection that customers really do look forward to receiving and cooking up at home. We also hope, after getting a taste for our gnocchi, to welcome Nourish'd customers to our dine in locations so they can enjoy our fun casual Italian atmosphere.
WHAT GGB DISH SHOULD OUR NOURISH'D CUSTOMERS BE MOST EXCITED ABOUT?
All of them will be stand out dishes but the crowd favourite is our traditional slow cooked beef bolognese gnocchi. It warms your heart and soul and is made using the highest quality local topside beef that we cook down with tomatoes and Italian spices for over six hours to achieve enormous flavour.
To try the new Gnocchi Gnocchi Brothers dishes, order by 5pm Thursday! There will be one gnocchi dish available each week so you will never have to go without a bowl of Italian goodness in your Nourish'd box. And the best thing is these new gnocchi dishes are still 100% Gluten Free, Preservative Free and Refined Sugar Free.